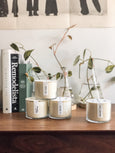 Elemental Signature 15 oz
$13.95 USD
NON-GMO 100% pure plant wax candle infused with inspired fragrances.
Our everyday Signature Line  offers  a wide range of fragrance choices for the everyday candle burner. Signature  fragrances  may or may not contain essential oils depending on the scent family. 
Cotton paper core double wick - sealed with custom letterpress cap. 
15 oz – burn time up to 75 hours