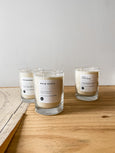 B. Elixir Aromatherapy 14 oz.
$15.95 USD

Created with 100% pure plant wax, essential oils and perfume blends to fragrance the element you live in thus creating a therapeutic effect on the body and soul. Hand poured in small batch one at a time.

14 oz tumbler – sustainable box packaging.  - burn time 65 to 70 hours
Black Fruit : Black Fruit, Labdanum, Dry Wood, Fig, Vanilla Absolute, Cassis, Santal + Amber
Borealis :  Juniper, Cedar Resin, Alder, Galbanum, Damp Earth + Inky Night Sky 
Petitgrain + White Cedar: Petitgrain, Lemon Leaf, Green Tea, Coriander, Soft Musk, White Cedar + Sea Salt
Piñon Pine: Piñon pine, Hinoki Wood, Moss, Cedar, Tree Sap, Peppercorn, Resinous Berry notes.
Ember + Ash: Smoky Vanilla, Guaiacwood, Elemi, Hay, Birch + Ash
Liquid Amber: Labdanum, Benzoin, Tonka, Saffron, Cognac
Vetiver + Hinoki: Hinoki Wood, Cypress, Wild Geranium, Vetiver, Patchouli 
Magnolia : Creamy Magnolia Blooms, Grapefruit, Freesia, Tuberose
Palo Santo + Pumpkin: Palo Santo, Warm Amber, Cypress, Cedarwood + Pumpkin
Gold Dust: Suede, Wild Cypress, Oud, Elemi, Sea Salt + Amber
Santal : Santal, Vetiver, Ember, Iris, Smoke + Cedar Wood
Bergamot + Ylang Ylang: Ylang Ylang, Bergamot, Rose Geranium, Lavender + Patchouli
Oud + Papyrus: Smoldering Aged Papyrus, Tobacco Leaf, Oud, Resin, Rosewood + Patchouli.
Juniper + Bergamot: Juniper Wood, Peppercorn, Damp Soil, Pine Needle,  Orris Root  + Bergamot

Palo Santo: Palo Santo, Warm Amber, Cypress + Cedarwood

Neroli + Blond Woods: Soft Blond Woods,  Crumpled White Roses, Aldehydes + Dewy Neroli
Teakwood + Coconut: Mahogany , Teakwood, Vetiver + Warmed Black Coconut
Patchouli + Cedar Atlas: West Indian Patchouli, Atlas Cedar, Moss, Myrrh + Cassia Root
Western Cedar + Fir: Cedar Wood, Distilled Pine Needles, Palo Santo +  Crushed Cassia Root
Tobacco + Black Honey: Tobacco Leaves, Deep Black Honey, Sandalwood + Ylang Ylang
Bitter Orange + Ginger: Bergamot, Blood Orange Zest, Tangerine, Ginger Root  + Cinnamon Leaf
Cannabis + Black Poppy: Green Cannabis, Mandarin, Coriander, Patchouli + Black Poppy
Sandalwood + Cardamom: Cardamom, Mellow Woods, Sandalwood + Green Iris
Organic Lavender + Rosemary: Woody Lavender Stems, Clary Sage, Lichen + Soft Rosemary
Fig Leaf + Rose: Black Mission Fig, Leaves, Stems,  Bulgarian Rose, Nectarine + Amber
Rockrose: Rose Damascena, Labdanum, Grapefruit, Freesia, Moss + Patchouli
Citrus + Moss: Bright Citrus, Fig Leaf, Oak Moss, Vetiver, Burlap Amber + Tree Sap
Sea Salt + Cypress: Salty Marine Notes, Eucalyptus Camphor, Driftwood, Sea Moss + Cypress
Woodsmoke: Resinous Fir, Palo Santo, Smoky Frankincense, Elemi, Cedar Moss + Clove

Blue Sage + Lavender Mint: Camphor Eucalyptus, Herbal Lavender, Wild spearmint + Blue Sage
Sequoia Woods + Vetiver: Vetiver, Sequoia Woods, Amber, Sandalwood, Patchouli, Bergamot + Tree Moss