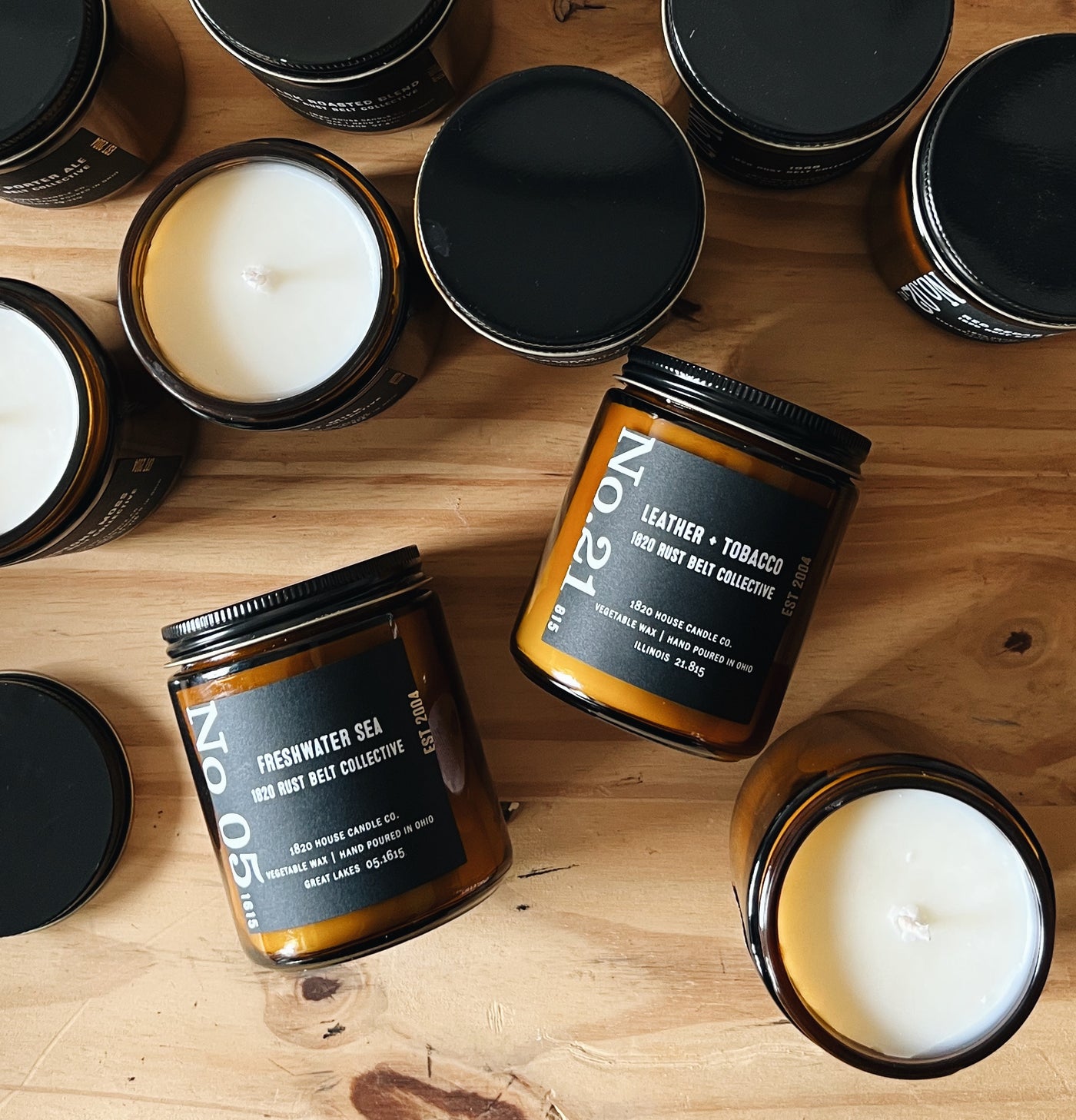 Rust Belt Collective 9 oz.
$10.00 USD
The Rust Belt is a region in the United States stretching from New York through the Midwest that once thrived on the steel industry. It became an industrial hub due to its proximity to the Great Lakes, canals and rivers, which allowed companies to gain access to raw materials and ship out finished products. This region is called the Rust Belt because the decline in industrial work has left many factories abandoned and uncared for, rusting due to their exposure to the elements. 
Welcome to the revival.
Letterpress Black Label with Brass foil. 
NON-GMO 100% pure vegetable & plant based wax, Infused with essential oils & natural aroma blends, 40% recycled content glass sustainable & recycled packaging to leave less of a carbon footprint on the earth. HAND POURED IN OHIO. 

9 oz
aromatherapy candle - burn time 45 to 50 hr
GREAT LAKES 15.1615 – FRESHWATER SEA 
Inspired by the 5 Great Lakes. Upon discovery in 1615 the French explorers referred to them as a Fresh Water Sea. Amazing aquatic notes, amber, bergamot, rock moss and wild violet.

OHIO 17.216/330 – NINETEEN SIXTY NINE 
Celebrating the birth of the candle maker, the glory of the steel mills in Youngstown and the factories thriving in Cleveland and along Lake Erie, the challenges of the Burning River, music of Led Zeppelin captured in a down
to earth patchouli, cedar leaf and peppermint blend.

OH 17.330 – ONE TOUGH COOKIE 
Resilient and industrious roots are what make up Youngstown's tough working communities. From the ashes of Black Monday in 1977 a city who once thrived in steel now resurrects as the new Tech Belt. We honor that hard work ethic along with a tradition special to the region of a good old fashioned Italian Cookie Table. Elements of aromatic vanilla, brown sugar, bourbon, allspice and spicy cardamom.

PENNSYLVANIA 02. 412 – RED CEDAR SMOLDER 
Remembering the hard working residents of the numerous steel mills along the three rivers of the Pittsburgh area finding a retreat in a cabin within the Laurel Highlands. Notes of cedarwood, smoky kindling a blanket of fir needles and a hit of spice.   

WEST VIRGINIA 35.304 – BLACK PEPPER + TEAK 
The mark of a true man starts with a good smell.   We'd like to take the boys of Weirton out of the mill….out of the coal mines.  Elements of vetiver, oakmoss, Brazilian rosewood, black pepper and fir resin mingle into a handsome blend.

NEW YORK 11.716 – BROWNSTONE + MOSS 
Buffalo paints a scene of the lake, the woods, the industry and the Brownstone architecture dotting the historic landscape of Upstate. This fragrance captures the essence of the clinging vines , tall grasses and volunteer gardens. Notes of herbaceous lavender, basil , tomato leaf, damp mosses, sweetgrass violet and fig.

ILLINOIS 21.815 – TANNED LEATHER + TOBACCO 
Pulling inspiration from the Tannery District along Chicago River's north branch. Hands crafting rugged, tooled and beautiful durable goods with only a break for a smoke. This scent captures stout hearted essences of  rich leather + leaf tobacco softened with a bit of sandalwood.

INDIANA 19.219 – PUMPKIN PORTER ALE 
The city of Gary along Lake Michigan may no longer "harvest" metals but the  lands to the south, where the Rust Belt and the Grain belt melt together with farmland fields of corn and pumpkin patches that spread out for what seem endless miles. This fragrance is a spicy composition of heirloom pumpkins, cardamom, and a bit of a boozy spice.

MICHIGAN 26.313 – BLACKBERRY + ARUGULA 
Outside the glory of being the Motor City, Detroit and surrounding communities are returning to the land as a way to start over. Ranking 4th in the Nation in Farmer Markets we only see it fitting to create a fragrance full of wild blackberries, a bundle of arugula, crushed herbs and green pear.

WISCONSIN 30.414 – THISTLE + MILK 
Beyond the manufacturing and breweries of Milwaukee being a part of the vast Rust Belt, this state holds a special place among being the heart of the Dairy Industry. We want you to think about driving down an old back road to one of these farms with notes of meadow flower, fig,  milky thistle , herbs and awash in sweet cream.

MARYLAND 07.410 – DARK ROASTED BLEND 
What hard working blue blooded American doesn't like to take a coffee break. We are certain they did just that at the steel mill at Sparrows Point and the ports in Baltimore. Rugged hands gripping the cups from their thermos as they revitalize by drinking this black elixir. Dark Arabica Beans ground and steeped just perfectly to fragrance your space.

KENTUCKY 15.858 – BOURBON + APPLE 
At the southern part of the Rust Belt region lies a place that conjures up images of the refineries of Covington, tobacco filled barns and even better known are buildings lined with aged barrels filled with distilled grain mash. We think a perfect compliment to that is a good mix of cider apples , clove, amber whiskey, rich aged bourbon and earthy woods.